On Canada Day, July 1, 2021, a Catholic church in East Vancouver, B.C. was vandalized with orange paint. A video posted to social media revealed two young women behind this act of vandalism. The church is predominantly attended by Filipino Canadians; its pastor is Father Jun Reyes. 2021 is a historical year for Christian Filipinos as it marks the 500-year anniversary of the arrival of Christianity in the Philippines. Indeed, Christianity has been widely practiced by many minority groups, and continues to be practiced today in the faith lives of those who have been colonized.
In New Hazelton, B.C., a 108-year-old Anglican church on Gitwangak First Nation land was burned to the ground on Canada Day. Chasity Daniels, former chief of the Gitwangak First Nation said members of the Gitwangak First Nation helped build the church over a century ago. "There's nothing but good memories in that church for our community." For many Indigenous people, these churches stir up conflicting emotions; many recognize how the church symbolizes abuse, trauma, and Indigenous erasure, though many have expressed that vandalism is not the appropriate recourse, and further destruction can be physically and mentally damaging for Indigenous communities.
Days prior, two Catholic churches in B.C.'s southern Interior were also set ablaze on Upper Similkameen Indian Band land, near Hedley, B.C., and on Lower Similkameen land near the U.S. border. The Lower Similkameen Indian Band's Chief and Council responded to the arson in a press release. "These churches represent places of worship for community members as well as gathering spaces for various celebrations and times of loss. It will be felt deeply for those that sought comfort and solace in the Church." In the southern Okanagan, two Catholic churches were also set on fire: the Sacred Heart Church and St. Gregory's Church. Father Thomas Kakkaniyil, the priest in charge of St. Gregory's Church said someone outside the community was responsible. "It was done on Osoyoos First Nation land but not by those people. It was somebody else."
Across the country, dozens of other churches have either been vandalized or set on fire following the discovery of over 1,000 unmarked graves on former residential schools where First Nations, Métis, and Inuit children were forced to attend and learn how to assimilate into Canadian society. Physical and sexual abuse was rampant, and children were stripped of their Indigenous beliefs and language. (An NDP MP recently called on the Canadian government to recognize the residential school experience as genocide, but the bid was rejected in the House).
Other Indigenous leaders came forward expressing their anger and sadness over the acts of suspected arson and vandalism. Chief Clarence Louie of the Osoyoos Indian Band told the National Post, "I can understand it. I don't like the Church. I don't believe in the Church. Many residential school survivors hate the Church with a passion – but I have never heard any of them ever suggest people turn to this."
He added, "There is a proper way of displaying anger. I mean, I'm angry about it. I talk to a lot of residential school survivors and sure there is a lot of hatred and bitterness and anger—but that still doesn't mean you go and do arson."
Louie called the arsonists 'punks' who 'never went to residential schools.'
Harsha Walia, Executive Director of the BC Civil Liberties Association and decades-long South Asian activist, plainly stated her position in four words: "Burn it all down," she quote tweeted in response to a story about the wave of church arsons.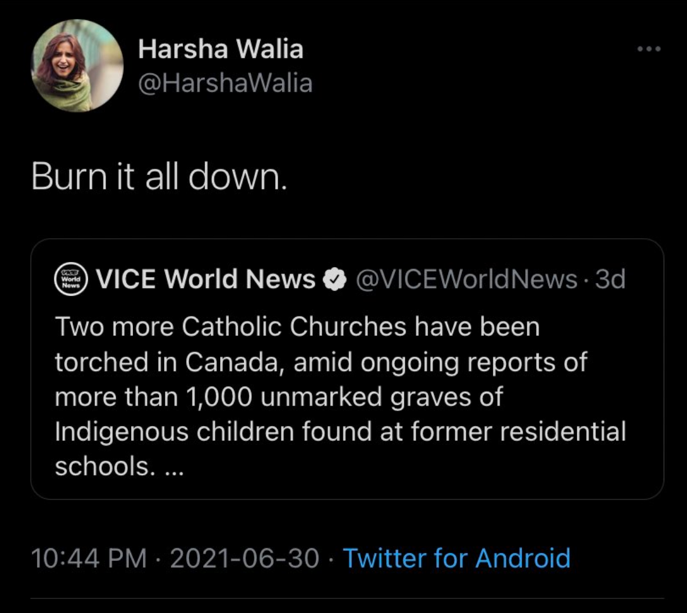 Harsha received backlash for her tweet and has since made her Twitter account private. Those defending her tweet claim that the phrase 'burn it all down' isn't a literal recommendation, but an 'expression of extreme frustration' and also 'a kind of self-care, an anti-gaslighting technique that allows space to acknowledge how bad and hurtful something is before we begin the long, hard painful work of making it better.'
In a 2012 article, Harsha wrote, "racialized violence has also always targeted places of worship—the spiritual heart of a community." As an example, she mentions the U.S.-led bombings of mosques in Iraq. She added, "The patterns of hate crimes have a sense, have a logic, have a structure—they are part of a broader system of white supremacy." Years later, in response to the U.S. Capitol riot, Harsha wrote, "violent hate threatens democratic and equality rights for all of us."
Harsha seems to have conveniently forgotten that Catholic and Anglican churches are also places of worship, much like the mosques in Iraq she writes about in her article. And, despite being trained as a lawyer, Harsha may need reminding that religious freedom is protected under Canada's Criminal Code. To Harsha, it seems that hate crimes are only ever committed within a white supremacist system, and hate crime laws can be selectively applied only to institutions deemed worthy of protecting. By this logic, would her support for arson count as an example of a white supremacist system at work?
Harsha's tweet perfectly captures the current trend of unbridled authoritative ideology under the guise of inclusivity and justice. For most of us, it seems that language (and silence) is considered violence and our every word is subject to extreme scrutiny, but activists like Harsha demand to be exempt from the same level of scrutiny, even when they themselves make explicit calls for violence. These are the inconsistencies commonly found among faux progressives today; they are relentless and insufferably unforgiving of others, yet they expect blanket immunity in return for their own Problematic Behaviours.
For the Walia's out there advocating arson, it's important to remember that First Nations communities are already grappling with a number of issues that affect their livelihood and quality of life: lack of safe drinking water, limited access to health care, limited access to education, poor infrastructure, and substandard housing are all substantive issues that have seen little to no improvement over the years. Exacerbating these problems by way of property damage is reckless and criminal.
To compound the issue: the British Columbia Centre for Disease Control recently issued a warning about another smoke-filled summer from the wildfires. B.C. experienced the worst air quality in 2017, 2018, and 2020, and this year looks to be no different. A village in B.C. has already been decimated by a wildfire this summer, forcing its residents to evacuate, while a number of other wildfires ravage communities across the province. It is careless at best, and criminal at worst to purposely set an uncontrolled fire, as it could lead to something more widespread, wreaking irreparable havoc in low-income, marginalized communities.
Another important point lost in this discussion is the demographics of Christian church-goers. In Canada, Christian immigrants comprise the largest cohort of religious Canadians. A 2012 Pew Research Center report found that six in 10 Canadian immigrants are Christian – which is higher than any other country. These are the points that often get lost in the sea of white-hot rage-fueled discourse.
The vandals, arsonists, and progressive activists like Harsha Walia reveal a disturbing cultural trend in Canada: one must fit into an increasingly infinitesimally narrow box in order to be granted dignity and respect. Self-styled progressives who claim to fight oppression in all its forms often fail to realize how they themselves contribute to more division, hostility, and prejudice.
My intention isn't to single out Harsha Walia or contribute to the steady pile-on (this article was written before local news outlets picked up the story), but to show how someone – particularly a leader of a civil liberties organization – can foment more xenophobia than the oppressors they purport to combat. It's a disturbing trend, and one that is not isolated to Walia, or even to the BCCLA. In the US, the American Civil Liberties Union (ACLU) is also abandoning its free speech principles in favor of authoritative dogma. This trend extends far beyond borders, and it should worry us all.
The vandals and arsonists committing acts of violence are not activists, but agitators. Activists seek concrete solutions; agitators seek ambiguity in place of action. Activists build bridges; agitators sow discord. Activists create; agitators destroy.
These agitators are frantic, disorganized, and emotionally stunted. When you seek to erase history, you are not doing anyone any favours. In order to move forward, we must seek to acknowledge, learn, and educate ourselves and each other about our past. Erasing history does not erase the past or the trauma. What it does is removes any evidence of it ever happening. Tearing down statues, burning churches, and banning literature is akin to sweeping Canada's dark past under the rug. It does not help victims heal, nor does it help others learn.
We are witnessing the result of frenzied, suburban angst. It's more of the same white saviour complex tactics we've seen before – except now it's playing out in the Real World, and not behind a screen. Perhaps these fair-weather activists would Do Better by going back to signing e-petitions and calling it a day. It would probably be safer for all of us this way.
---
Please consider joining our Patreon community if you haven't already! Patreon subscriptions and direct donations are our sole source of revenue.
---