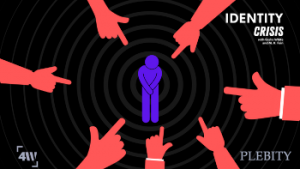 Research suggests guilt may be more effective at actually promoting behavior change
"Identity Crisis" is a new weekly column and podcast for young people struggling with the modern orthodoxy of gender identity ideology—developed in collaboration between Plebity and 4W by M. K. Fain and Sasha White. Each week, we will answer one or two of your questions, both as a running column here on 4W, and in the form of a video on YouTube.
To submit a question, email us at: [email protected]. We may publish your question in full, so be sure to leave out or change any identifying details if you would like to remain anonymous. Or, specify that your question is private and you would rather we discuss it in a general way.
Cancellation usually comes in two parts. As we discussed the past two weeks on Identity Crisis, a major part of being #cancelled are the quantifiable losses: getting fired, friends bailing, having to move, and being forced to rebuild your life.
But this is only half of the story. The other side of cancellation is the public shaming. The mob. The denunciations. The seemingly endless supply of people, strangers and "friends" alike, who find a way to tell you that you are wrong.
Public shame has been a method of social control since the beginning of human societies and shame is described by some psychologists as a "survival emotion." Today, public shaming is often used to discourage unwanted behaviors or ideas ranging from the genuinely awful (sexual assault) to the questionable (off-color tweets from a decade ago). Thanks to the internet, public shaming is no longer limited to the stocks in the town square but can include viral videos spreading the globe in a matter of hours. The stakes are higher than ever.
Proponents of cancel culture argue that this public shaming is for the purpose of "accountability" ⁠— or being held responsible for one's actions and forced to answer for them. Presumably, with the goal of ultimately changing this behavior or preventing it in others.
But research suggests that shame is not only ineffective in changing behavior, but may actually make the issue worse.
Shame, defined as "the painful feeling arising from the consciousness of something dishonorable, improper, ridiculous, etc., done by oneself or another," is a social emotion. It depends entirely on the expectations, standards, and perceptions of others. The feeling of shame is not applied to a specific action, but rather to your whole person, judging the self as being fundamentally flawed.
Guilt, on the other hand, is "a feeling of responsibility or remorse for some offense, crime, wrong, etc., whether real or imagined." Unlike shame, guilt is linked to a specific action and regret for causing harm. While guilt can be either healthy on unhealthy depending on standards used to determine harm, it is largely considered more adaptive, productive, and desirable than shame.
Shame and guilt are similar in many ways, and in some cultures are essentially synonymous. However, the two emotions result in contrasting behaviors in humans. Guilt often motivates people to take "reparative action," while shame motivates efforts to "deny, hide, or escape." Guilt is more highly correlated with empathy than shame, and shame-prone individuals are more likely to lash out with anger, hostility, and blaming others. Shame can have a detrimental impact on an individual's belief in their own ability to grow and achieve goals, and is seen as "stunting" the agency and motivation of people who have committed offenses.
When someone feels shame, they are more likely to withdraw socially and seek out information that confirms their own worldview. In the case of criminals, shame is even linked to higher rates of recidivism while feelings of guilt predict lower rates of re-offending.
If the goal of public shaming is truly accountability (rather than punishment or virtue-signaling their own moral superiority), the mob will be sorely disappointed. Shame is unlikely to result in any genuine remorse, actions to remedy harms done, or taking responsibility. Instead, public shaming may just drive the target deeper into their own worldview and make them more likely to continue the unwanted behavior (while also making more attempts to hide it).
Experts have recognized this for a long time, publishing article after article about how public shaming isn't useful for addressing COVID denial, Trump supporters, or bad tweets. Yet, the public shaming continues.
The reason for this may become clear when we consider the difference between shame and guilt.
Shame thinks you are a bad person. Guilt thinks you did something wrong.
Ideally, advocates for change would wish to provoke feelings of genuine guilt in their targets by demonstrating the suffering caused to others. This would be the most likely emotion to result in taking responsibility and changing their behavior going forward.
But the offenses that result in public shaming are rarely grounded in any demonstrable harm. Thought-criminals who dare to speak a heterodox idea are instant targets for public shaming. While "woke" internet mobs may claim that the very words themselves cause harm, the twisted irony is that, often, the viral nature of public shaming makes the "hurtful" idea become more widely seen or heard than it would have otherwise been. If simply seeing the idea causes real suffering, the public shamers themselves should be held accountable for the suffering they have caused by helping "harmful" ideas gain viral attention.
The truth is, many targets of public shaming these days have ultimately not caused any significant harm, so producing feelings of genuine guilt is impossible. The most these mobs have is shame, and the hope that the fear of being publicly shamed will keep others in line.
That fear may actually be the only part of public shaming that works as intended.
When bystanders see a target being shamed, their goal naturally becomes to avoid this themselves. In response, many people may even choose to join in on the public shaming to send the message that they disagree with the behavior and cover up their own shame.
What results is not a society free of the unwanted behavior or idea, but a society where many (if not most) people continue the unwanted thoughts or actions while pretending they don't and lashing out at everyone who they catch doing it.
But despite all the evidence against shame as a tactic, social justice mobs will continue to rely on it so long as their ideology refuses to contend with the reality of what is actually, objectively, harmful.
Because, the truth is, most victims of cancel culture don't have anything to actually feel guilty about.
---
You can listen to "Identity Crisis" on Spotify, Google Podcasts, or wherever you get your podcasts. Subscribe to updates on Identity Crisis here: identitycrisis.xyz/get-updates