Holocaust Denialism and the Limits of Free Speech with Norman Finkelstein and Daniel Ben-Ami
Conference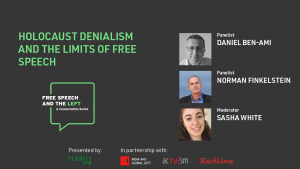 Panelists: Daniel Ben-Ami, Norman Finkelstein

Moderator: Sasha White
Description: Norman Finkelstein and Daniel Ben-Ami exchange opinions about Holocaust denialism, hate speech laws and the boundaries of permissible speech.
Daniel Ben-Ami runs the Radicalism of Fools website, which is about rethinking antisemitism. In over 30 years as a journalist, he has written for many publications, including The Australian, The Economist, Financial Times, The Guardian and Spiked. He has also written two books and contributed to several others.
Norman Finkelstein is a long time scholar and author of numerous books, including the Holocaust Industry, which generated significant controversy when it came out in the year 2000. Norman has written and spoken extensively on the Israel Palestine conflict, and his latest book is called I'll Burn That Bridge When I Get to It! Heretical Thoughts on Identity Politics, Cancel Culture, and Academic Freedom and can be purchased here: https://www.sublationmedia.com/books/i'll-burn-that-bridge-when-i-get-to-it.
Sasha White became a free speech advocate in 2020 after being fired for her personal comments on transgender ideology. She has written for Spiked online, Tablet Magazine, and 4W. She co-founded the Plebity Free Speech Fund and hosts interviews on the Plebity Youtube channel.