Conference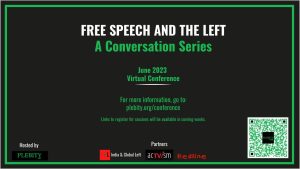 Momentum is building for our Free Speech and the Left virtual conference scheduled for June, 2023.
The conference participants include some of today's most interesting voices, coming together to discuss the most divisive issues of the day.
We're in active collaboration with the New Zealand site Redline, India & the Global Left and acTVism Munich.
What is the left?
Panelists will consider whether leftist thought offers relevant and useful ways of thinking about capitalism and exploitation, empire and forever wars, cancel culture and identity politics, environmental destruction and degrowth, social justice and universalism, animal rights and morality, and of course free speech.